(Peoria, Ariz. – Sept. 18, 2023) — Strolleria, a multi-channel retailer of high-end baby gear, today announces it partnered with Highway 85 Creative to bring its vision for the brand's new Scottsdale storefront interior to life. Coming from a smaller, less optimally designed space, the company was looking for a clean aesthetic and functional, modular displays that could be reconfigured as needed. Strolleria was looking for an experienced partner who could ask the right questions and cover all their bases throughout this project. Ultimately, the team wanted its store interior and customer experience to match the luxury gear it sells. They found Highway 85, who delivered on this vision in time for the store's grand opening in August.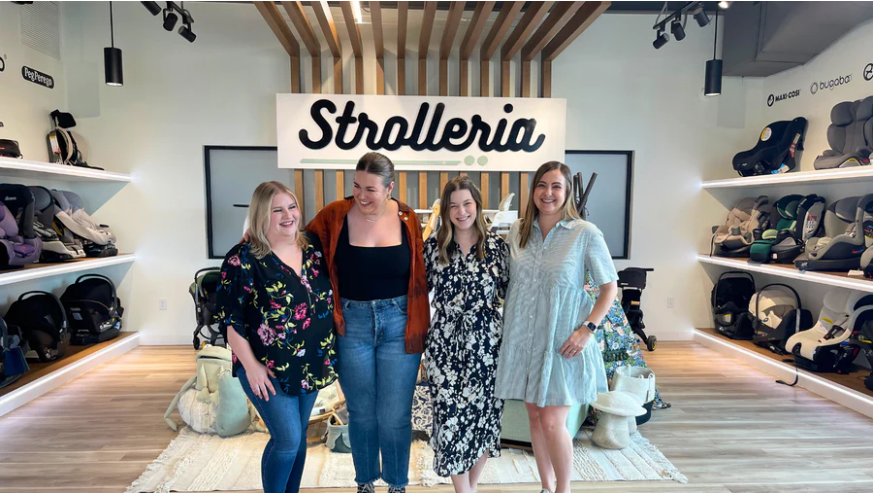 "The new store build-out has really elevated the overall experience for customers when they come in," says Jenna King , Marketing Manager at Strolleria. "I believe it will, in turn, build trust in our business and produce a higher conversion rate."
The Strolleria team credits Highway 85 with building a space that exemplifies their branding and is full of creativity and character. From the start of the partnership, Highway 85 went onsite and worked to get a feel for Strolleria's pain points, needs and desires. With a clear vision in mind, the highly skilled team at Highway 85 Creative embarked on a journey to transform the Strolleria showroom into a space that reflects the elegance and quality of the brand and its products. The process commenced with detailed measurements, finalizing shop drawings, and carefully selecting finishes and materials, guaranteeing a seamless integration of style and functionality. Once the display modules and graphics were ready, the Highway 85 team completed the install within four days.
"It was a great experience working with Highway 85," says Jenna King at Strolleria. "They were all really easy to work with and our primary contact, Ryen, in particular was fantastic. Her communication skills and the team's quick turnaround times made all the difference in making this project not only a success, but also enjoyable."
Recognizing the expertise and innovative approach of Highway 85 Creative, Strolleria entrusted the display designs for Nuna and UPPAbaby to elevate their brand experience. One standout feature of the Nuna display is a unique stroller path constructed with grass, brick, and stone, allowing customers to test the strollers on different surfaces within the store, eliminating the need to venture outdoors in the heat. This thoughtful addition not only fosters convenience but also enhances the overall shopping experience. Furthermore, Highway 85 Creative expanded upon the success of the project by building two separate displays for car seat demo stations. These remarkable additions provide ample space for customers to explore the products while granting the Strolleria staff increased room for interaction, ensuring a seamless and engaging customer service experience.
In close partnership, Highway 85 and Strolleria executed on Strolleria's vision, at their pace and on budget. To learn more and see how other brands have transformed their interiors, please visit https://www.highway85creative.com/commercial-interiors/.